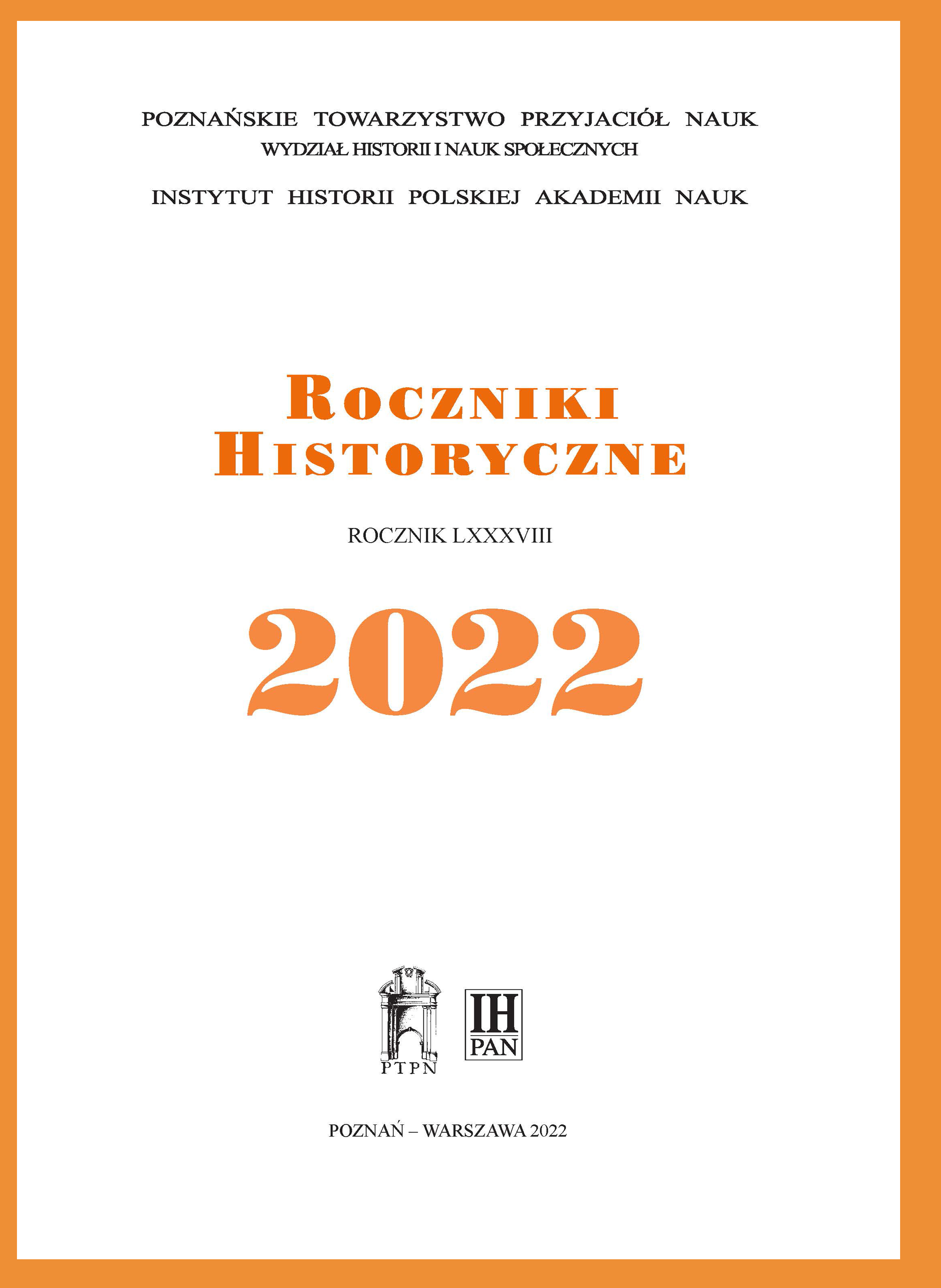 Roczniki Historyczne [English: Historical Annals], founded by the eminent medievalist Professor Kazimierz Tymieniecki, have been published since 1925.
The journal quickly gained popularity on a broader scale and even before the war was already recognised as one of the most important Polish historical periodicals. Initially, until the outbreak of World War II, the publisher of the journal was the History Appreciation Society in Poznań. After the war, the journal was published by the Poznań Society for the Advancement of Arts and Sciences, and, from volume XX (published in 1955) onwards as the main periodical of its Faculty of History and Social Sciences.
In 2003, the Institute of History of the Polish Academy of Sciences joined in as a co-publisher.
Kazimierz Tymieniecki served as editor-in-chief until his death in 1968, sharing the editorial duties with Rev. Henryk Likowski (1925–1926), Kazimierz Kaczmarczyk (1925–1939), Zygmunt Wojciechowski (1946–1952), Kazimierz Piwarski (1956–1957), and finally Gerard Labuda (from 1958), who took over in 1969 and held the position of editor until 1986. In 1987–2002, the journal was edited by Antoni Gąsiorowski. Currently (as of 2003), Tomasz Jurek is its editor.
In the earliest phase, especially in the interwar period, Roczniki Historyczne published papers with a particular interest in the Western Polish lands and Polish–German relations. With time, this feature became less prominent, chronological specialisation taking the upper hand. For nearly twenty-five years, the journal has been devoted primarily to medieval and early modern Polish and universal history.
The journal publishes research papers (often extensive, at times exceeding 200,000 characters), articles, short notes, source texts, reviews of research, polemical writings and numerous reviews. The articles are provided with summaries in German and English. Starting from volume LXXI (2005), English abstracts of the articles are available on the website of the Central European Journal of Social Sciences and Humanities (CEJSH: cejsh.icm.edu.pl).
Co-publisher: Institute of History of the Polish Academy of Sciences
The journal is indexed in the Central European Journal of Social Sciences and Humanities (CEJSH). It is also listed in the European Reference Index for Humanities (ERIH Plus).
Since 2012, the PTPN Publishing House has been digitising the issues of Roczniki Historyczne for the years 1925–2008. In accordance with the Copyright Act, the Publishing House is obliged to obtain the authors' (or their heirs') consent to digitise and disseminate of works to be made available in electronic form on the website of the Digital Library of Greater Poland. Those authors or authors' heirs whose property rights have not been licenced to the journal with a written contract are kindly requested to contact our Publisher.
PL ISSN 0324-8585
e-ISSN 2451-134X